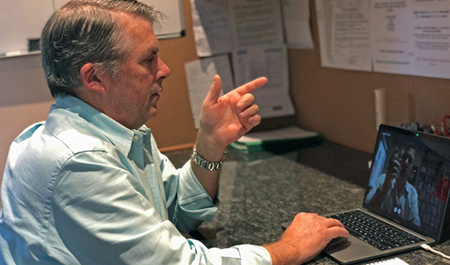 Our Coaching
Convenient, Private, Relationship Coaching Via Zoom, Telephone, FaceTime, Skype, WhatsApp, or Signal from anywhere in the world. Our coaching can help you move through your affair recovery more quickly, cut through the confusion, avoid common mistakes, and make better decisions.
If your partner has had an affair, is there still hope? Yes!
If you've had an affair and your partner says they can never trust you again, is there any hope? Yes, there is.
If your partner is unwilling to do coaching with you, is it still beneficial to start coaching alone? Yes!
If your partner has left you, can you somehow pick up the pieces, and build a happy life for yourself on the other side of the pain? Absolutely!
Can you have a happy marriage after an affair? You can have an even better marriage than you ever imagined possible.
Miracles happen. Broken hearts can be healed. The pieces of our broken families and our broken lives can be restored. We know. We did it.
Here's what our coaching can help you do:
1

Avoid Common Mistakes. When it all comes down to it, it's not the affair itself that is the most difficult to heal from (and we're not minimizing how difficult that is in anyway), but it's all the mistakes couples make after the affair is disclosed that usually causes the greatest damage to the relationship. By getting good help right away you can minimize the damage and begin genuine healing and restoration quickly.

2

Quickly Identify Your Strengths and Challenges as a Couple. It can be extremely encouraging to see what you do have going for you as a couple. Is your marriage one that can/should be saved? It's also helpful to clearly identify your challenges.

3

Gain Clear Direction. Often couples wonder, are we doing the right things? With coaching you can have confidence that the energy you're putting in is moving your relationship forward. You're not wasting your time. You'll have confidence that you're on the right track.

4

Understand Both Sides. There are no "bad guys" in our coaching sessions. Because we thoroughly understand the unique pain and challenges of both sides of the marriage, both the one who had the affair and the one who is betrayed will feel understood. Coaching avoids bias. We're on the side of your restored love.

5

Identify Hidden Issues. Most couples waste time arguing over surface issues (without realizing it), so they talk in circles, and never really resolve anything. They feel frustrated and often as if they've hit a wall they can't seem to breakthrough. Coaching can help you identify the "real" issues you and your spouse are hurting over, so you can actually move forward.

6

You will have something to look forward to. Coaching becomes an oasis in which you are really heard, can talk about your vital concerns and begin to purposefully design your life and relationships.

7

Save Time and Agony. It's understandable to feel that you don't want to "air your dirty laundry." Sadly, however, trying to "do it on your own" usually takes longer and is harder than necessary. With specific guidance for your unique challenges, you can heal thoroughly, faster, and it doesn't have to be that hard.
The Advantage of working with The Bercht's
Brian and Anne have personally been through this and rebuilt their marriage when at one point it seemed hopeless. This gives them genuine compassion for your situation, and what they share is not just theory. They've been there. They know. They understand the journey and the difficult emotions.
They can tag team as your coach – so you always have insight into what the other side might be feeling; betrayed vs. unfaithful, husband vs. wife, extrovert vs introvert. You may choose to coach with either Brian or Anne, however, once you begin, they are going to do whatever it takes to help you. If that means Anne's clients sometimes need to hear Brian's perspective, or Brian's clients sometimes need to hear Anne's perspective, they make that happen for you.
The Passionate Life Coaching Team
If you are divorcing, the Passionate Life Coaching team includes coaches who have navigated the painful journey of divorce and also built happy, healthier, stronger lives on the other side. As well there are other couple teams to work with. For example, with couples where the wife had the affair, they may prefer to work with another healed coaching couple where the wife had the affair too.
To find out more call our office at 360-306-3367 or send an email to info@beyondaffairs.com
We will be happy to spend a few minutes with you at no charge (if we are available) to answer your questions about coaching and ensure this is the right option for you. Our primary concern is helping you heal, with or without your spouse, as your unique situation demands.
"Anne and Brian saved our marriage. Without their positive help, in some very low times, we may not have made it. They both gave us such an honest and fair perspective of the affair healing process. It was my wife that had the affair, so it was very helpful for me to get a guys perspective of why? And vice versa for me with Anne, she was able to relate to me as the betrayed spouse and my wife as a woman. We worked with them via phone for 6 months and in person on a few occasions. It has been just over 2 years since our D DAY, and I can say without any doubt… OUR marriage is better today than it was before the affair!! Anne and Brian continue to inspire us with their marriage and support."

Sean – Tsawwassen BC, Canada
"As personal coaches, Anne and Brian offer something no PhD toting "expert" can: they have walked the walk, and advice comes from experience. They have a unique ability to draw others out of their hurt, and to plant seeds of personal growth. Their passion to reach out and help others is felt in each and every session."

- H.W., Vancouver, BC, Canada
Costs
After an introductory coaching session, Brian or Anne will design a unique program specifically suited to your needs, to take you from where you are, to where you want to be.
Our goal is to empower you, point you in the right direction and give you the skills to heal your life and relationship... and to take your marriage and or your life to the next level. We want you to join the many happy couples whose once hurting marriages have become healed success stories.
We look forward to helping you heal, get beyond the pain, and build a happy life on the other side of the affair.
Yes! I would like to schedule a one hour coaching session with Anne Bercht now! Fee $225
Book Now
After payment you will be taken directly to Anne's calendar to book your session.
Book your Introductory Coaching Session with Brian now! for only $99
Book Now
After payment you will be taken directly to Brian's calendar to book your session.